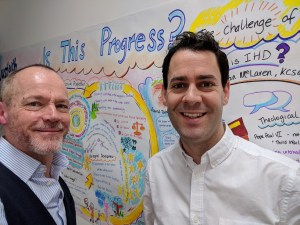 Scottish Faiths Action for Refugees co-ordinator David Bradwell recently featured on an episode of the new podcast series Refugee Voices Scotland.
 Refugee Voices Scotland aim to make a difference to public attitudes to refugees in Scotland and the UK to help the efforts to make refugees feel safe and secure in Scotland; to increase the confidence of the refugees to tell their story and help integrate them further in Scottish communities and community groups.  By making podcasts and interviewing refugees and people involved in integration work in Scotland they are aiming to shed more light on the people and the issues making a difference.
In April 2018 the work of Scottish Faiths Action for Refugees was covered with an interview with project co-ordinator David Bradwell.
You can read more, listen to this podcast as well as previous episodes and subscribe to future ones on the Refugee Voices Scotland website.