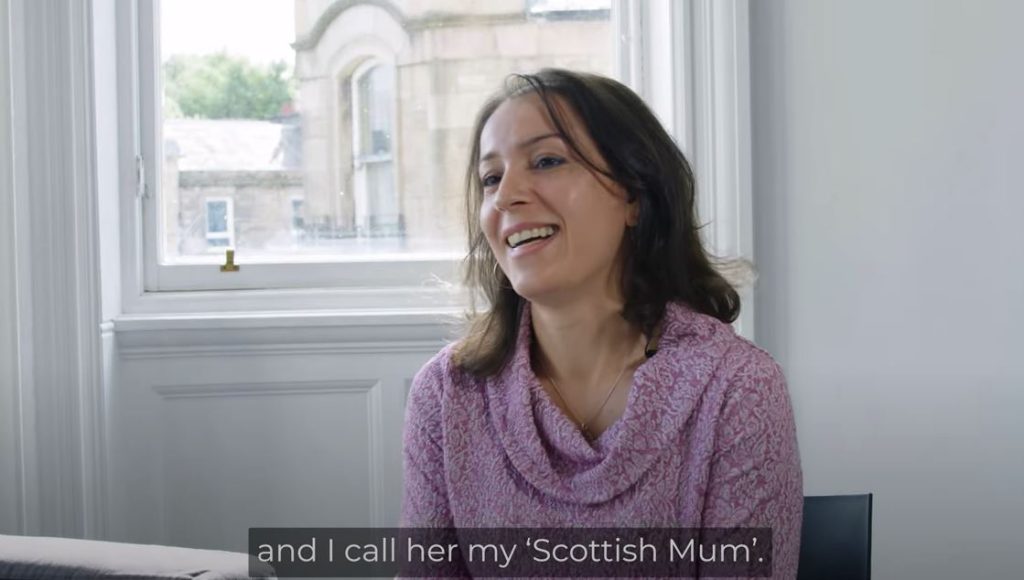 Journeys of Faith and Welcome is a series of videos produced by Scottish Faiths Action for Refugees and Faith in Community Scotland to celebrate the stories of people seeking safety and faith communities, and the role faith has played in their journeys of seeking, finding and offering sanctuary. These videos can be used during worship gatherings, mid-week meetings, or as a basis for discussion groups. They were written for a multi-faith context and can be used by a community of any faith.
We hope the videos will inspire people across Scotland to play their part in building welcoming and cohesive communities.
Below you will find a short description of each video, suggested discussion questions and a link to the video.
Central Church: Friendship Café
Link: https://youtu.be/330Gh9E0TNQ
Summary: Central Church has been welcoming New Scots since Syrian and Kurdish families first started arriving in Edinburgh in 2015. Inspired by their Christian faith they seek to become home and family for those rebuilding their lives in the city. Over many years they have built deep relationships and friendships with New Scots, sharing life together and helping them settle. Once a month they also host welcome meals or coffee mornings in their church to enjoy a time of fellowship with New Scots in larger groups.
Discussion questions:
How does Sawsan describe the difficulties they face after arriving and the support she received?
What difference has connecting to a faith community made in her life?
What role can community and social connections play in our lives? Why are they particularly important in the lives of refugees?
What does your faith tell you about your role of welcoming refugees and people seeking asylum?
Philomena's Story
Link: https://youtu.be/oQtNLUbFwc4
Summary: Philomena is from Central Africa, seeking asylum in Scotland and lives in Glasgow. She speaks powerfully about the struggles people seeking asylum face in Scotland, including the times spent in isolating contingency hotels and the immigration laws which prevent her from being allowed to work.
She also speaks about the difference her local church made in her day-to-day life: "I never expected that my black skin colour would be seen as offensive, disgusting and annoying. But when I discovered my local church, St Aloysius RC Church in Glasgow, some things changed. I was welcomed with open arms and made to feel at home, to have a sense of belonging irrespective of the colour of my skin. They gave me reasons to be happy, hopeful and strong, alongside providing the financial and emotional support I needed to pull through, keeping my faith alive. I am now studying to become a nurse/midwife and I truly appreciate my local church for its support, and for helping me believe my future will be greater."
Discussion questions:
What was life like for Philomena in an asylum hotel? [This can be an opportunity to find out more about why people are placed in asylum hotels and the impact it is having on their lives.]
What brought about change in her life?
What kept Philomena going? What keeps you going in the struggles of life?
From Philomena's quote above, what can we learn about how faith communities can offer sanctuary from experiences of racism? What does that look like?
How do we encounter God or enrich our faith in the support we receive from others?
Mossvale Community Church
Link: https://youtu.be/c_9MMdC20Ss
Summary: Mossvale Community Church is a local church in Paisley, Renfrewshire that set up a project called 'Sewing2Gether All Nations' for members of the refugee and asylum seeker community, primarily supporting women who wish to practise English and build new friendships. Through creative workshops New Scots learn to sew and upcycle damaged or unloved clothes. Since then they have worked with people seeking asylum, Syrian refugees and Ukrainian families, and most recently set up the All Nations Café and drop-in for refugees and people seeking asylum, particularly responding to the opening of a hotel for Ukrainians in the vicinity.
Discussion questions:
In which diverse ways is Mossvale Community Church supporting refugees and people seeking asylum?
Which skills and experiences do you see in your own faith community that could be utilised to support people settled in your community?
Which religious texts encourage you in connecting with people from all parts of the world?
How can we build multicultural faith communities that reflect the communities around us?
Saowsan's Story
Link: https://youtu.be/T2lmG6SBtAs
Summary: Saowsan came to Scotland from Iraq with her children and lives in the South of Glasgow. As with many others, she found a warm and safe welcome in Castlemilk Community Church which really helped her and her family settle in to their new life in Scotland.
Castlemilk Community Church supports newcomers to Scotland by helping tackle social isolation and making connections in the wider community. They encourage cross-cultural understanding through discussion groups and trips to places of interest. They also run employability sessions and provide a safe place to share life experiences and make friends.
Discussion questions:
What surprises Saowsan about the church? Why do you think she is surprised?
What worries do you have about connecting with New Scots and people of other faiths?
What does Saowsan appreciate about Scotland and the support she received?
How is your faith encouraging you to respond?