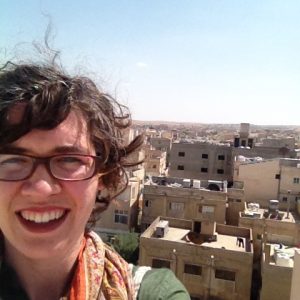 JOURNEYS IN JORDAN:
Relief and Refugees by Claire Meghan
In May, I had the opportunity to spend three weeks in Jordan, meeting forcibly displaced Syrian families, hearing their stories and serving them in small ways.
I am under no illusions of being an expert on refugees, relief work, or the Syrian conflict. However, my encounters with forcibly displaced Syrians have left me with opinions and insights, and a deepening sense of injustice and compassion. I feel it is important to share my stories.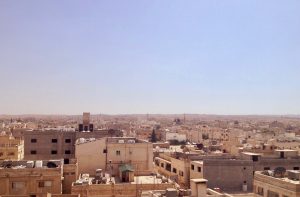 Mafraq is a small city in northern Jordan. Located within sight of Syria, Jordanians and Syrians used to cross the border near Mafraq frequently, without interference from the government. Since 2011, when the first 40 Syrian families crossed the border seeking refuge from the conflict, 80,000 Syrians have settled in Mafraq—more than doubling the original population of 50,000 Jordanians. This sudden increase in residents has placed a strain on the city's infrastructure and economy, not to mention the social challenges of integrating two distinct populations.
While in Mafraq, I was volunteering with a local Christian congregation, who have made it their priority to welcome and serve the newly arrived Syrian population. They aren't relief and development specialists, but decided to listen to need, and respond in love, in whatever ways they could.
They started by visiting families, who had fled with nothing, and providing them with a "Welcome Pack". This was a gift of mattresses, blankets, a gas bottle, stove, and some basic cooking ingredients. Over a number of years, their work has developed to now include IT, sewing and English classes, a girls' football club, speech therapy (for children whose hearing has been damaged by falling bombs), and a primary school for refugee children. In addition, families who are struggling financially can register with the church to receive a monthly food aid parcel, delivered to their home.
During my time in Mafraq, I was mostly involved in delivering these food parcels, during what we called "home visits". Unlike other aid agencies, the church had a policy of entering peoples' homes, spending time with the families and receiving their hospitality—rather than simply passing food across the threshold.
It was an extremely humbling experience to enter a home and accept food and drink from households which didn't even have enough for themselves. Initially, it made me quite uncomfortable, until I realised how honouring and 'humanising' this act was for the Syrian families. In accepting their gifts of welcome, we offered dignity to our hosts, recognising their humanity and allowing them to offer hospitality, a significant cultural practice.
One host shared how deeply offended he was, that so many relief organisations would refuse to enter his house and accept his hospitality. He had begun to ask himself, "Do they think I'm dirty?"
Sitting together on the low mattresses, drinking chai, and letting ourselves be known, host and guest. In many ways, it felt like the only thing I could offer. Looking into someone's eyes; seeing them as a whole human being, who loves and cries, laughs and hides; with fears and dreams and experiences. I fought to not undervalue this gift of presence that I could both offer and receive.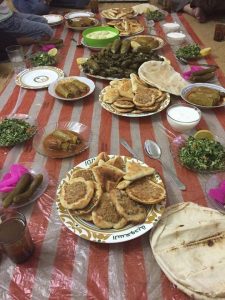 Spending time with Syrian families in their homes, brought a mixture of experiences. I sat with families as they shared extremely difficult stories and circumstances; holding space for them to share experiences and express emotions they had not felt able to burden their fellow countrymen with. However my encounters with Syrians, be it in Jordan or Scotland, have always left me with a huge respect for their resilience. Despite the most difficult conditions, the Syrians I have met radiate joy and a gratitude that inspires, and deeply challenges me.
Certain moments stand out in my memory because of the joy that was present. Watching an illiterate mother's pride as her daughters read aloud—in English! Seeing young children, who had been unemotional and traumatised from the war, shrieking in delight and clambering about on the church's play structure. Sitting together after sharing a meal together with a Syrian household, chatting and laughing like old friends, and exchanging photos of our homelands.
It is telling, that after six years of conflict, the church in Mafraq is still providing relief to recently arrived Syrians. There is such a great need that "first instance" relief remains an appropriate response. However, they are beginning to look to implement development projects, to support Syrians as they settle and attempt to build a future in Mafraq. Next month I'll share about what it looks like for Mafraq's Syrian population to rebuild their lives.
---
Claire Meghan is a volunteer member of the Edinburgh Weekend Club team.  The Weekend Club is a project of Scottish Faiths Action for Refugees which seeks to respond to the social isolation experienced by many refugees, asylum seekers and new migrants (New Scots) arriving in Scotland. Its aim is to enable New Scots to become active members of society through the building of strong social relationships. By providing a relaxed and fun environment at a series of social events the Edinburgh Weekend Club gives its participants the opportunity to meet new people, build friendships, improve their English and learn more about Scottish culture and history.