A Heart for Refugees is a series of paintings based on photographs from the United Nations refugee agency (UNHCR) to form part of an exhibition in 2016 to share the stories and experiences of refugees from Syria. You may also wish to use this series in the "Journeys through lament and hope" section below. For all images and stories, please contact Felicity (fburrows@churchofscotland.org.uk). Please note that some might find these stories hard to read.
Love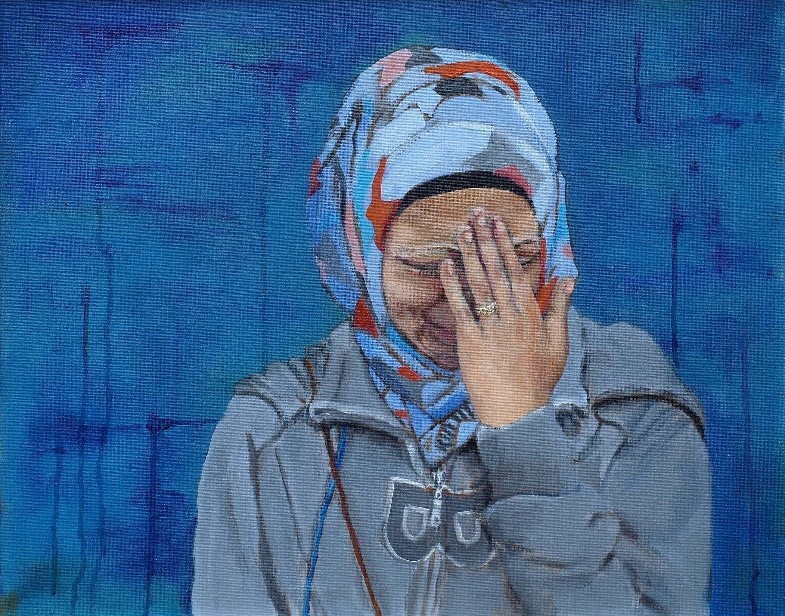 My husband and I sold everything we had to afford the journey. We worked 15 hours a day in Turkey until we had enough money to leave. The smuggler put 152 of us on a boat. Once we saw the boat, many of us wanted to go back, but he told us that anyone who turned back would not get a refund. We had no choice. Both the lower compartment and the deck were filled with people.
Waves began to come into the boat so the captain told everyone to throw their baggage into the sea. In the ocean we hit a rock, but the captain told us not to worry. Water began to come into the boat, but again he told us not to worry. We were in the lower compartment and it began to fill with water. It was too tight to move. Everyone began to scream.
We were the last ones to get out alive. My husband pulled me out of the window. In the ocean, he took off his life jacket and gave it to a woman. We swam for as long as possible. After several hours he told me that he was too tired to swim and that he was going to float on his back and rest. It was so dark we could not see. The waves were high. I could hear him calling me but he got further and further away. Eventually a boat found me. They never found my husband.
Based on original photograph by Brandon Stanton
Painting used by permission www.pennyfaux.com
Source: UNHCR Tracks: Kos, Greece. "Humans of Lesvos" 2016
Grace

I studied to be a teacher, but I'm young, so I knew I'd be forced to fight. I don't like fighting. I don't like blood. But I was the only one working so I couldn't leave or my family would go hungry. But my mother begged me to leave. She kissed my feet. She said she wouldn't mind starving if she knew that I was safe. 
I hired a smuggler but he took all my money and left me at the border. He told me that he'd call me when the passage was safe, but then he turned off his phone. I was all alone and stuck without money. I called my mother and she said that she'd pray for God to send someone to help me.
Then I met this man. I told him my story and he loaned me the money I needed to get to Europe. He treated me like one of his family. I'll pay him back, but until then I'm trying to return the favour by helping him carry his children.
Based on original photograph by Brandon Stanton
Painting used by permission www.pennyfaux.com
Source: UNHCR Tracks: Vienna, Austria. "Humans of Lesvos" 2016