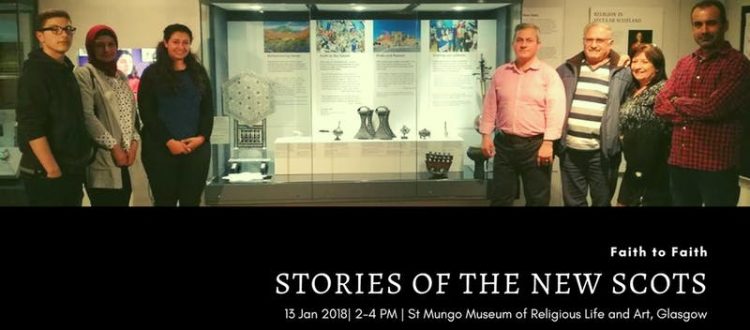 Faith to Faith – Stories of the New Scots
Sunday 13 January 2019
2.00-4.00pm
St Mungo Museum of Religious Life and Art, 2 Castle Street, Glasgow G2 0RH.
On the Feast of St Mungo, Patron Saint of Glasgow and son of a refugee, join this special event to hear from some of Glasgow's New Scots about how they came to settle in Glasgow.
You will also see a short film that tells the story of the making of the New Scots display in the museum. This is the culmination of a year long engagement programme between the St Mungo Museum and groups of refugees from different religious, ethnic and cultural background who have settled in Glasgow over the past 20 years.
And, while you're at the museum you can see this unique display for yourself!
As always there will be plenty of time for conversation, tea, coffee and cake.
All welcome!
Tickets can be booked via Eventbrite
This event is part of a monthly dialogue series called Faith to Faith, developed in partnership between Interfaith Glasgow and St Mungo Museum of Religious Life and Art.