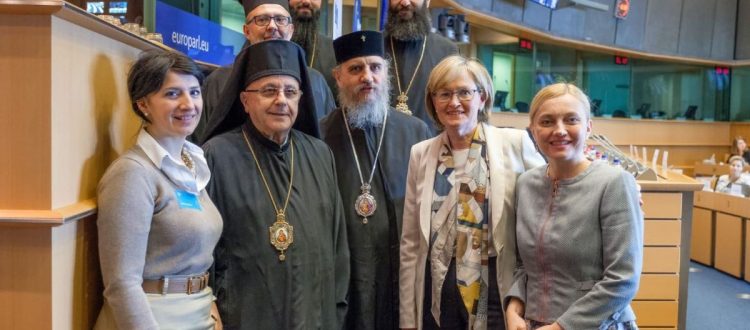 A path towards the resilience of Syrian people
A recent seminar held at the European Parliament in Brussels brought into sharp focus the situation and resilience of people in Syria, generating responses from diverse Christian voices and European Institutions.
The event explored in detail possible, viable and legally durable solutions to promote the future normalization of the lives of Syrians.
The theme of the event was "The next day in Syria: A path towards the resilience of Syrian people" and the speakers touched upon topics including "humanitarian aid for all" and "reconstruction and resilience of Syria" in two consecutive sessions.
Hosted by György Hölvényi MEP and Jan Olbrycht MEP, Co-Chairmen of the European People's Party (EPP) Working Group on Intercultural and Religious Dialogue, the seminar was organised by the Conference of European Churches, Commission of the Bishops' Conferences of the European Union (COMECE), Committee of Representatives of Orthodox Churches to the European Union (CROCEU), and the EPP group in European Parliament. Mairead McGuinness MEP, First Vice-President of the European Parliament, made remarks about the theme in the introductory session of the seminar.
Metropolitan Athanasios of Achaia, Director of the Representative Office of the Orthodox Church of Greece to the European Union, spoke about the challenges faced by Syrians. "We are here to express our sincere concern in a spirit of solidarity in prayer, advocacy and practical support acknowledging our responsibility as Christians for our fellow human beings," he said. "I believe that our efforts need to be supported by an inspiring global educational activity involving both parents and the youth. The European Institutions should take the initiative to set an example for the education system as a whole," added Metropolitan Athanasios.
Elsy Wakil, regional secretary of the World Student Christian Federation – Middle East and Program Director for Peacebuilding and Overcoming Violence was among the speakers. She highlighted the realities faced by Lebanon due to refugee crisis in the Middle East, and its impact on youth. "Immigration has become a phenomenon increasing year after year for the last couple of decades leaving a huge lack of opportunities for young people to build up and enjoy the country where they belong. It is no secret that Lebanon was not prepared politically, socially and economically to receive a huge number of Syrian refugees." Amidst these challenges, she said "it's the time to talk about the rebuilding of Syria and return of the Syrian refugees to their country." She highlighted ten points why however currently return of the Syrian refugees is unrealistic.
The discussions conveyed the significance of churches' concern and work for the Syrian people in different areas such as education, healthcare, psychological-social and spiritual support, humanitarian aid and promoting their right to normal daily life in their homes.