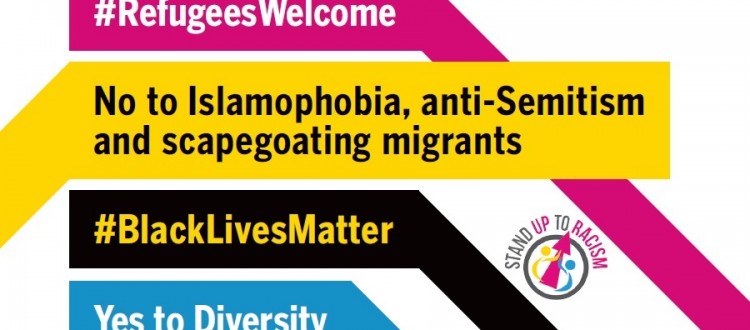 Stand up to Racism & Fascism
Past Event
On Saturday 19 March there will be a national demonstration in Glasgow City Centre, organised by Stand Up to Racism.
The event is supported by a wide range of groups, including Scottish Faiths Action for Refugees.
Join the Europe-wide UN Anti-Racism Day Demonstration on 19 March when tens of thousands march across Britain, with major mobilisations in London, Scotland and Wales joining thousands in cities across Europe and around the world to say no to racism.
A racist offensive against refugees, migrants and Muslims is being pushed by some politicians and press.  It is crucial we respond to this by standing in solidarity against attempts to divide our communities.
The appalling treatment of refugees across Europe and the staggering rise in anti-Muslim hate crimes must be challenged. Let's send a message that drives back the tide of racism, fascism, Islamophobia, anti-Semitism and the scapegoating of migrants and refugees –
Say refugees welcome here and yes to diversity!
Let's stand up to racism together!
Assemble at 11am in George Square; at 11.30am there will be a march followed by a rally, also in George Square.
For details of transport across Scotland check the Stand Up to Racism – Scotland Facebook page.
For further information, see www.standuptoracism.org.uk  Twitter: @AntiRacismDay