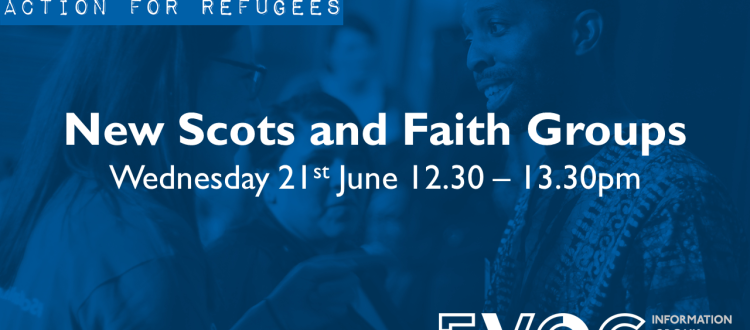 New Scots & Faith Groups Event
Date: Wednesday 21 June 2023
Time: 12.30-13.30pm
Location: 121 George Street & Online (hybrid)
Organisers: Scottish Faiths Action for Refugees and EVOC
Information and advice for local faith groups that are supporting New Scots
https://newscotsfaithgroups.eventbrite.co.uk
Faith groups have a huge role to play in building community with refugees and people seeking asylum (New Scots). At a time when more and more people are seeking sanctuary in Scotland, welcoming communities are more important than ever
To help equip faith groups, Edinburgh Voluntary Organisations' Council (EVOC) and Scottish Faiths Action for Refugees (SFAR) are organising a lunchtime information session during refugee week. Leaders and volunteers from faith groups are invited to join us for:
• Updates on the current situation for New Scots in the Lothians, including the latest news about the MS Victoria.
• Advice and guidance on how to connect with and begin supporting New Scots
• Information on accessing funding for projects involving New Scots.
• An opportunity to meet and connect with other faith communities involved in this work.
This event will be hybrid so you are invited to join us either in-person in the Church of Scotland offices, or online where you can fully participate remotely. Lunch will be available for in-person attendees.
If you have any questions about the event please contact David at david.moodie@churchofscotland.org.uk