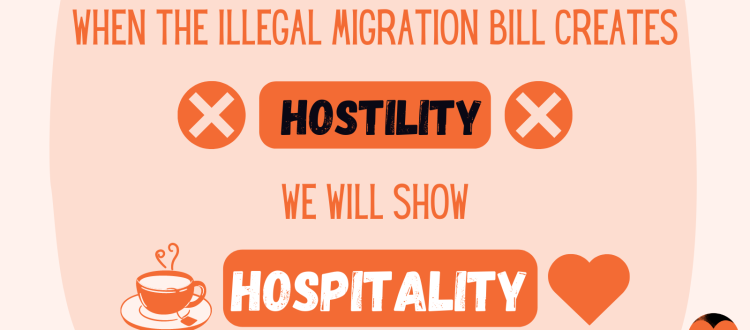 Faith leaders voice fresh opposition to Illegal Migration Bill
Scottish faith leaders have joined forces to voice their opposition to the UK Government's Illegal Migration Bill.
Bishop Mark Strange, Primus of the Scottish Episcopal Church, Rev Fiona Bennett, Moderator of the United Reformed Church, Imam Dr Sayed Ali Abbas Razawi, Chief Imam of the Scottish Ahlul Bayt Society and Rt Rev Sally Foster-Fulton, Moderator of the General Assembly of the Church of Scotland, spoke out to mark the start of Refugee Week. (19th-25th June).
They have joined other faith leaders from across the UK to feature in a video produced by Together with Refugees, a coalition of more than 500 national and local organisations representing refugees and people from all walks of life who believe in showing compassion to refugees fleeing war and persecution.
The Illegal Migration Bill is currently making its way through the Westminster Parliament.
If it passes, it would mean that anyone who arrives in the UK via an irregular route, such as a small boat across the English Channel, would never be able to claim asylum here despite having had to flee their home country due to persecution or conflict.
The United Nations High Commissioner for Refugees has said that the bill "would amount to an asylum ban" and includes extensive powers to detain people, including children, with no time limits.
Speaking in the video, the religious leaders said: "As people of faith, we strive to welcome the stranger, to offer hospitality, to love, protect, listen, learn, and show compassion.
"Across the UK, now and throughout history, individuals and communities of faith have welcomed refugees into their homes and lives.
"When people travel across borders because they are fleeing war, persecution or oppression, we are ready to play our part.
"But the Illegal Migration Bill will deny people desperately seeking safety in the UK the right to community, peace, compassion and security.
"It will ban people from getting the protection they need, punish them for seeking sanctuary, and separate families.
"Instead of hospitality, it treats people with hostility, discrimination and distrust.
"We believe in a different approach.
"We believe in a fair and just asylum system that welcomes those who need protection and respects their dignity.
"We call on the (UK Government) to listen to communities who say this bill does not reflect what we want our country to be.
"As people of faith, we will stand together with refugees, because it's who we are."
Faith leaders in Scotland are also urging the Scottish Government to provide free bus passes for asylum seekers.
The Scottish Religious Leaders Forum say that extending schemes already in place for people aged 5-22 and 60 plus would be a humane, just and life-changing response to help one of the most disadvantaged and isolated groups in society who have experienced "unimaginable suffering".