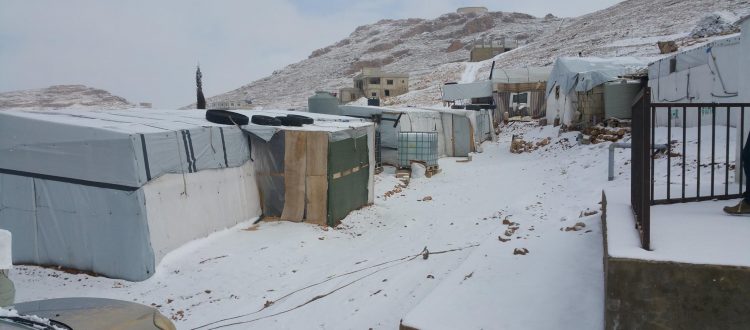 Edinburgh Direct Aid – winter appeal
Edinburgh Direct Aid is now urgently appealing for winter supplies for the Syrian refugees – estimated 60,000 min – who are facing their 5th winter in flimsy tents and shacks in Arsal, Lebanon, at an altitude of 5,000 ft near the Syrian border.
It takes 4-6 weeks for shipping containers to get there, so EDA need to send them by the end of December for them to be of help in the worst of the winter weather. For a list of what is needed, opening hours, address, and contact details, see www.edinburghdirectaid.org/warehouse.
The picture above shows Arsal in February 2017, where EDA funds a small school in the camp.  Syrian refugee teachers provide lessons, but are unpaid.  They may not be able to do this indefinitely, as UNHCR are cutting food vouchers for lack of international aid. This means that such classes may have to close, and children return to cold tents with nothing to do, and further delays in their education.  So of equal importance to funding the sending of winter supplies is raising money to pay the teachers – perhaps enough for a one-off payment to help the get by and stay teaching the children.
Syrian refugees in Lebanon are the main focus of EDA's work. But they have also been involved this summer with helping IDPs (internally displaced people) from Mosul in Iraqi Kurdistan. The city has been rendered in large part uninhabitable in the battle to retake it from Daesh/ISIS earlier this year. The city was finally liberated in July, but the entire western side has been totally devastated, and many hundreds of thousands of traumatized civilians are now in refugee camps between Mosul and Erbil. In one of these camps, run by local charity the Barzani Foundation, EDA has funded a few small buildings to serve as a children's centre for those children who have lost a parent or parents in the turmoil of leaving the city. It provides a place for them to play, get some simple education, and to be looked after while work to ensure their future care – ideally tracing lost relatives – continues.
The Edinburgh Direct Aid Facebook page includes 2 videos about this from 2 STV  news items.
If you don't live near Edinburgh, you can find out if other charities are collecting items for distribution on our pages Action with my neighbourhood.