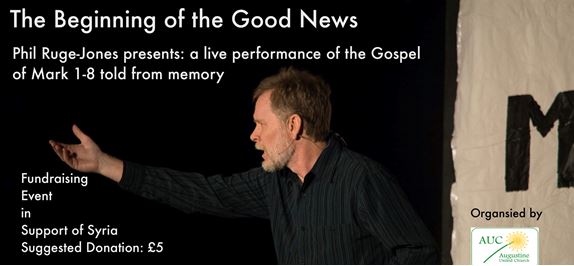 Fundraising Event in Support of Syria
Augustine United Church and St John's Episcopal Church are hosting a live-performance of Mark's Gospel in aid of the Syrian refugee crisis. Come along and be inspired by Phil Ruge-Jones and his incredible story-telling skills.
Date      Monday,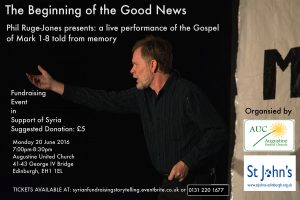 20 June 2016
Time      7 p.m. – 8:30 p.m.
Venue    Augustine United Church, 41 George IV Bridge, Edinburgh
Tickets available here
In the ancient world, most people heard rather than read the gospels. Phil Ruge-Jones is a professional storyteller and biblical scholar who has memorized and told the Gospel of Mark before thousands of people over the last decade. On this night he will tell the first half of the Gospel of Mark and we will see what happens when God enters history and everything must change..
Tickets to the event are FREE but the organisers request you register for the event. They ask that attendees come prepared to make a suggested donation of £5 on the night to support the response to the situation in Syria and the ensuing Refugee Crisis.
For further information please email: nicola.a.robinson1@gmail.com or call 0131 220 1677