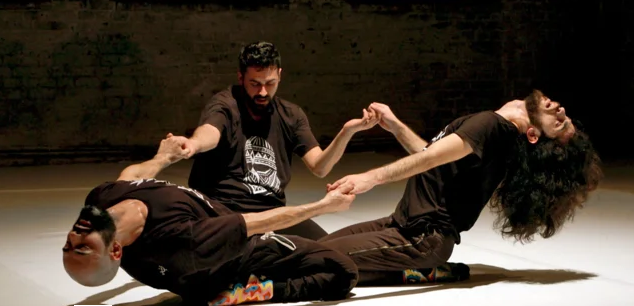 Come as you are – dance performance and ceilidh
27 June Edinburgh
30 June Glasgow
The Scottish Council of Jewish Communities (SCoJeC), in partnership with the Scottish Refugee Council, presents "Come as you are #Berlin" A contemporary dance performance.
What happens when three refugees from Syria try to find their way into the Berlin art landscape: their hopes, dreams and nightmares. From Berlin based dance company TOTAL BRUTAL, followed by a Klezmer Ceilidh
EDINBURGH: Thursday 27th June Greyfriars Charteris Centre, 138/140 The Pleasance, Edinburgh EH8 9RR Performance 7 pm, Klezmer Ceilidh 8.30 pm with band Kleyne Klezmer and caller Fiona Frank
GLASGOW: Sunday 30th June Glasgow University Chapel, The Square, Glasgow University, Glasgow G12 8QQ Performance 7pm, Klezmer and Scottish Ceilidh 8.30 pm with band Celter Schmelter and callers Conrad Molleson and Fiona Frank
Performance £15/£10, Ceilidh £15/£10 Discounted ticket for the performance AND Ceilidh £25/£15 /£15 NEW – Group bookings: 10 tickets for the price of 9. VIP Patron ticket: £100 for a double ticket: gives you two seats in the front rows for the performance, and a special 'meet the dancers' drinks reception after the performance. Please consider supporting this venture by signing up to be one of our VIP Patrons, bringing a group, or placing an advert in our commemorative brochure.