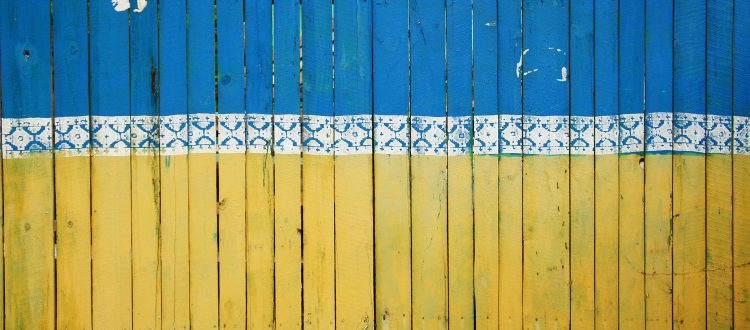 7 things you can do to respond to the situation in Ukraine
Overview of situation
(last updated on 16 June 2022)
With real concern we are watching the situation in Ukraine unfold. As well as the direct casualties of war, the humanitarian crisis within the country is escalating, as many are trapped in bunkers and underground stations without food and access to fresh water. Over 6.3 million people are estimated to have fled the country in search of safety. 
The situation in Ukraine is evolving and very fast moving. The UN Refugee agency describes the situation as follows:
'War in Ukraine in 2022 has forced upwards of 6.3 million people to flee Ukraine. An additional 8 million people have been displaced within Ukraine's borders. Prior to this 2022 crisis, almost 3 million people were already facing humanitarian need in Ukraine, including 850,000 internally displaced Ukrainians and 5,000 refugees from others countries' (16 June 2022).
For a detailed and current summary of events that are unfolding week by week and the humanitarian situation please follow The New Humanitarian | Ukraine, or other reliable news agencies.
Are Ukrainians arriving in the UK?
The Government's initial response to the crisis in Ukraine focused on supporting British nationals in Ukraine and their families. It has since come under pressure from Members across the political divide, the Welsh and Scottish Governments, and many campaigners, to help a wider range of people leave Ukraine.
On 1 March the Home Secretary announced some further measures which she described as "phase two" of the UK's "bespoke humanitarian support package for the people of Ukraine". The Government has said that it is responding to the evolving threat situation and will make further changes if needed.
On 18 March the Government opened a new 'humanitarian support pathway' which will enables Ukrainians who do not have family connections in the UK to be sponsored to come to the UK by local communities, charities, and businesses in the UK. This scheme, called 'Homes for Ukraine', is led by the Department for Levelling Up, Housing and Communities. If you would like to consider sponsoring a Ukrainian family through this scheme you can find all the relevant information on the Homes for Ukraine FAQ page.
The Scottish Government has registered as a 'super sponsor' under this scheme which removes the need for Ukrainian applicants to be matched to a named individual before they are cleared to travel to the UK through the visa system. You can find more information about the Scottish Government's approach here. The Scottish Government have also published a guide for hosts offering accommodation under the Scottish Government Super Sponsor scheme. It covers:
the eligibility criteria to become a host
the role and expectations of hosts in supporting Ukrainian guests who arrive under the scheme
where hosts can access further support
As of 9 June 2022, there have been 12,861 applications for a visa with a Scottish Sponsor, more than 11,500 visas have been issued, and around 4,200 displaced Ukrainians with a Scottish Sponsor have now arrived in the UK (2,035 of these have an individual sponsor and 2,236 have the Scottish Government as a Super Sponsor). A network of welcome hubs has been established with access to meals, accommodation and support for anyone arriving. A national matching service in partnership with COSLA is working hard to find longer-term accommodation.
As of 14 June 2022, 42,200 Ukraine Family Scheme visas have been issued and 88,000 visas under the Homes for Ukraine scheme. As of 13 June 2022, only 25,400 have arrived under the Ukraine Family Scheme and 51,800 under the Homes for Ukraine Scheme. Up to date data, as well as the breakdown by Local Authority can be found here.
---
1. Contact your MP
Only a very limited number of Ukrainian nationals who need support will receive it through the UK's temporary visa concessions and the 'humanitarian sponsorship pathway'.
You can contact your local MP to urge the UK Government to offer comprehensive safety to Ukrainian refugees.
Our experience is that it makes more impact on an MP to write a personal letter, or have a meeting with them.
Some of the key points you might wish to ask for or raise:
Call on the UK Government to introduce visa waivers like Ireland and other EU countries and allow people fleeing war in Ukraine to travel here without a visa.
Establish a new safe route to ensure people fleeing war, and persecution, can easily enter the UK on humanitarian grounds and claim asylum on arrival.
Provide fair and speedy resolution for all people – including Ukrainians – who make asylum claims whether they are already in the UK or travel here through regular or 'irregular' routes.
---
2. Advocate for a more humane approach to asylum seekers and refugees
The Government has also pushed the Nationality and Borders Bill through parliament, which severely impacts refugees who are unable to access a 'safe route' to the UK. One key point in the new Nationality and Borders Act is that an asylum seeker's claim will be determined by their means of arrival rather than the merit of their application. The situation in Ukraine demonstrates exactly why this is fundamentally flawed; any Ukrainian who flees and makes their own way to the UK will be criminalised. Their asylum claim will be deemed 'inadmissible' under the new bill. The Scottish Refugee Council has issued a statement on the crisis in Ukraine.
We are therefore working hard with partners to campaign against the realisation of this bill. Many faith groups joined the Together with Refugees Coalition which is working towards a more humane approach towards asylum seekers and refugees, ensuring that they can still make use of their right to claim asylum. You are encouraged to join this coalition and the efforts to prevent this bill from becoming a reality.
Find a detailed briefing, including actions you can take on the Joint Public Issues Team website.
---
3. Donate
A number of humanitarian aid initiatives have been established to deliver immediate and urgent support to people in Ukraine and refugees in the surrounding countries. We have listed a number of these below. This is not an exhaustive list, and you may choose to donate with an organisation you already have a relationship with.
The Reformed Church in Hungary, a partner church of the Church of Scotland, is mobilising support (Food, non-food, accommodation) through Reformed Church in Hungary Aid to refugees next to the border, in Budapest, and where possible also in the Transcarpathian region of Ukraine, where the Transcarpathian Reformed church has parishes, and in Slovakia and Romania. A description of the activities can be found at: https://reformatus.hu/english/news/reformed-community-proved-love/.
Your donations can be directed to the following account: (Please gift aid this if possible.)
Royal Bank of Scotland Church of Scotland No 1 Account
Account no 00134859
Sort code 83 06 08
Reference RCHA donation
Other international organisations you can support are:
Support for Ukrainians already in the UK
If you would like to donate locally, we would suggest you make donations to local charities who are already well set up to support refugees and asylum seekers arriving in Scotland. They are best placed to respond quickly and effectively to support newly arrived Ukrainians as well. Please search for an organisation that aligns with your values and commitments (e.g. on the New Scots Connect Map).
The Salvation Army Voucher Scheme
The Salvation Army is providing vital vouchers worth £30 to Ukrainian refugees and asylum seekers (currently accommodated in hotels with merely £8 support a week) in Scotland, which can be used in the Salvation Army's charity shops to buy clothes and other prime necessities. This safeguards the individual's personal dignity, and allows them to choose goods that they need the most.
Your faith communities can help The Salvation Army to provide these vouchers by making a donation to the scheme at https://www.salvationarmy.org.uk/scotland-office?form=scotlandoffice,  using the donation button and specifying "Voucher scheme for Ukrainians and asylum seekers" in the comments section.
For detailed advice about giving money or items please take a look at our website.
In many areas, people are mobilising locally to collect goods to take to Ukraine and surrounding countries. While in-kind donations are certainly a valuable and engaging expression of help from individuals, it's important to note that they can sometimes generate additional work and complications for those on the ground (e.g. they may generate additional work and costs for those transporting, storing and otherwise managing them; border customs; issues like hygiene standards or labelling of products in different languages may arise). For many organisations, financial donations are often most appreciated.
---
4. Pray
Prayer is an important part of many faith traditions. Below are some specific prayer points:
Pray for the people of Ukraine. Pray for those who are fearful of their lives and livelihoods, who have lost loved ones, or through chaos have lost contact with their families. Pray for those who are making treacherous journeys because they have no choice, for those who and for those who are left behind. Pray for safety, comfort, endurance and peace.
Pray for wisdom and generosity of the global community, governments and for national and international leaders who have power, influence and authority. Would their responses and commitments to supporting those most in need be generous, kind and compassionate.
Pray for wisdom for International leaders as they seek to support Ukraine and respond to Russia's aggression.
Pray for the Russian people and for Russia's leaders that they would pursue peace and justice for Ukraine and for Russia.
Pray for receiving communities to be welcoming and sensitive to the needs of those they are caring for. Pray that all will be welcomed regardless of who they are and where they are from.
Prayer for Peace in Ukraine (Very Rev Dr Susan Brown)
O God, the refuge and strength of all,
You hold the people of Ukraine in the palm of your hand.
The name of each person there,
Is written on your heart.
In the darkness of invasion
And in the mire of political machinations,
Spread we pray, the light of hope and of justice
And of peace.
Encourage those who are frightened,
To find strength in you
And in those around them –
Near and far.
Help the worldwide family of nations
To respond in love
With outstretched hearts,
Open minds,
And with too, the wisdom needed
to effect a peace that lasts.
Save us we pray,
From not caring enough.
For your Son's sake.
For more prayer and worship resources on the topic, check out our God With Us resource. It includes bible studies, prayers, liturgies, stories, poems and discussion ideas.
---
5. Sponsor or house a Ukrainian family
As explained above, the UK Government started the 'Homes for Ukraine' scheme to establish a new 'humanitarian support pathway' which will enable Ukrainians who do not have family connections in the UK to come to the UK by local communities, charities, and businesses in the UK, or to stay in people's homes for a limited period.
The scheme has no limit on the number of people who can access it, and people who come under this scheme will be granted leave for an initial period of 12 months, and they will be able to work and access public services.
If you are interested in supporting Ukrainian refugees through this scheme, register your interest today on the Government's Homes for Ukraine website which also enables you to sponsor under the Scottish Super Sponsor Scheme.
If you do not have a direct connection to a Ukrainian person or family to sponsor you can register with Reset who are seeking to enable a matching service: https://www.homesforukraine.org.uk/.
Before you consider sponsoring someone please read our guide on things you should consider before you make this decision.
The expert hosting network NACCOM advises that hosting works best when the right time, support and consideration has been given to facilitating a positive and safe hosting arrangement, particularly as many people in need of hosting may have experienced trauma, conflict or persecution.
Reset has also compiled a comprehensive toolkit for sponsors who would like more guidance on questions like how the programme works, how it links to your local authority and how you might be able to set safe boundaries.
You can also find information about refugee community sponsorship from Citizens UK and Sponsor Refugees.
---
6. Help for people in Scotland affected by the situation in Ukraine
The Scottish Refugee Council is regularly updating their website with important information for people in Scotland affected by the conflict. They are also hosting regular free online information sessions for Ukrainians in Scotland and have fact sheets for Ukrainians on their rights and entitlements. A round up of various resources for Ukrainians (like online English classes) can be found here and here.
The Ukraine Advice Project UK are a group of volunteer legal professionals with immigration and asylum expertise. They are providing a free service to connect Ukrainian citizens in need of free legal advice on UK immigration, visas and asylum with qualified and regulated lawyers. They can be contacted on ukraine@freemovement.org.uk. Additional details can be found here –Ukraine Advice Project UK – Free UK immigration and asylum advice for Ukrainians and their families from qualified lawyers (advice-ukraine.co.uk)
In discussion with the Association of Ukrainians in Great Britain, Barnardos have set up the Ukrainian Support Helpline to provide a holistic support service. The Helpline is available to anyone fleeing the conflict in Ukraine.
Get in touch if you need support with:
Therapy with a qualified psychotherapist – delivered via the phone or online, with access to interpreters
Advice on a range of issues e.g., housing, accessing key health services, education, employment and more via our trained helpline support workers
Practical support – access to digital devices to ensure families stay connected to loved ones during this worrying time, as well as stimulating toys for children, vital baby items and more
All services include access to interpreters in Ukrainian and Russian. Call the free helpline on: 0800 148 8586
In addition, a new service is to be established to offer vital advice and urgent practical support to Ukrainian seasonal horticultural workers in Scotland.
If you are arriving in Scotland and calling from the Edinburgh airport, rail station or bus station for advice on accommodation and other support, or need to contact the council in an emergency, telephone: 0131 200 2306 or email: ukraine@edinburgh.gov.uk.
Please also take the time to read information on Human Trafficking and Exploitation. It is available in English and Ukrainian.
---
7. Longer term support
If you are in a position to offer employment to people from Ukraine, consider registering the job opportunity with the UK Government.
Please check out our Sanctuary in Scotland resource for ideas on other ways you can get involved in walking alongside refugees and asylum seekers in Scotland.