The Weekend Club is a monthly social event for refugees and asylum seekers in Edinburgh.
We work in partnership with local faith communities to provide a space for people to practise their English, form social connections and get to know their new city.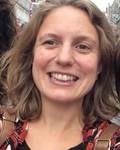 The Edinburgh Weekend Club usually takes place on the third Saturday of the month and is co-ordinated by Louise Turner (right), our Refugee Integration Development Worker and a group of multi-faith volunteers.
Past events have consisted of ceilidhs, trips to Edinburgh Castle and the zoo, baking and Burns Suppers.
Each event tends to invite between 40-70 people from the refugee community alongside volunteers and guests from local faith groups.
How to get involved
Volunteer with us
We are looking for volunteers from diverse faith and belief backgrounds to help plan and deliver the events.
If you are passionate about showing welcome to New Scots in Edinburgh, we want to hear from you!
Get in touch with Louise lturner@churchofscotland.org.uk
Host Us
We are always looking for faith communities who are willing to host an event.
Hosting can mean anything from providing a venue or a meal, to providing volunteers or helping us to fund an outing.
It's a chance to build connections with people from the refugee community and show them welcome in their new city.
Outings and Activities
If you have skills or spaces that you'd like to share with the refugee community, please get in touch.
This could be anything from workshops, venues or free tickets to events.
We'd love to show people new and exciting parts of their city but we need support from the community to enable this.
How to attend
If you are a New Scot and would like to come along to The Edinburgh Weekend Club, please get in touch with Louise.
If you are someone who works with the refugee community and know people who would benefit from the event, please let us know.
You can chat to Louise on 07503 660 960 or send her an email.
Mailing List
Are you a member of a local faith community?
You are also welcome to come as a guest to The Edinburgh Weekend Club and there are spaces available on each event.
Please email lturner@churchofscotland.org.uk if you would like be on the mailing list.
For information about our sister project, the Glasgow Weekend Club, please see the website of Interfaith Glasgow.  They have produced this promotional video: