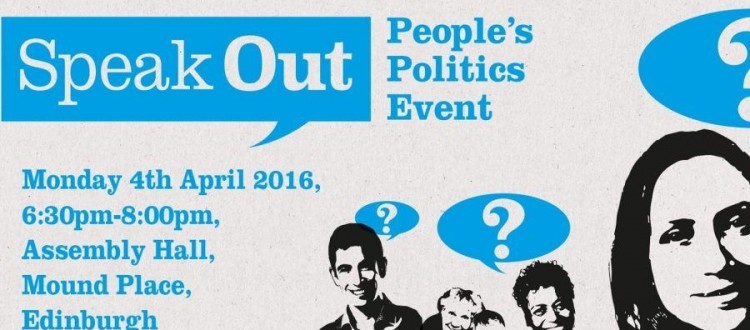 Speak Out: People's Politics event
Past Event
With the Scottish elections less than seven weeks away, the Church of Scotland is holding a unique event giving the public the chance to question political party leaders on the issues that matter. Speak Out: People's Politics will be held on April 4 in the Assembly Hall on the Mound from 6.30-8.00 p.m.
Join the Church and Society Council and leaders of Scotland's political parties, to hear from people with lived experience of some of the most critical issues facing Scotland and explore how the elections in May 2016 might make all the difference.
On the evening of Monday 4th April, come along to Speak Out: People's Politics and hear some amazing people talk about what it is like when:
your school doesn't think that you can achieve anything because of where you come from
you feel trapped on benefits, distrusted by officials and unable to find useful work
you work every day but there still isn't enough money to pay the bills
initiative after initiative ignore all the great things that are already going on in your community
You too will have the chance to have your say, about the things which you believe need to change.
Then it will be time for some of Scotland's senior politicians to respond. You'll hear from: Kezia Dugdale, Annabel Goldie, Patrick Harvie,Willie Rennie and John Swinney. They'll say what they want to do to bring about the change that our speakers are calling for.
Speaker panel:
Chair: the Rt Rev Dr Angus Morrison (Moderator of the Church of Scotland General Assembly)
Conservatives: Annabel Goldie
Greens: Patrick Harvie
Labour: Kezia Dugdale
Liberal Democrats: Willie Rennie
SNP: John Swinney
Access information: for stair-free access please use the Lawnmarket entrance.
For any additional information, contact the Church and Society office on 0131 240 3006, or email churchandsociety@churchofscotland.org.uk