What is it all about?
The Government's proposed Illegal Migration Bill, if passed, will not just strip people fleeing war and persecution of their right to seek safety in the UK but punish them, based simply on how they came here, not whether they need protection. The UNHCR (the UN's refugee agency) has stated that the 'Illegal Migration Bill', if passed, "would amount to an asylum ban – extinguishing the right to seek refugee protection in the UK for those who arrive irregularly, no matter how genuine and compelling their claim may be, and with no consideration of their individual circumstances".
The bill would also:
Breach the UN Refugee Convention.
Leave tens of thousands of men, women, and children in indefinite limbo, detained, and
denied a fair hearing.
Fail to provide the safe routes we need now.
What are we doing?
Faith groups across Scotland have been speaking out, highlighting the extensive human suffering the Bill would cause. (Read the statements of the Catholic Church, Scottish Episcopal Church, Quakers in Britain, The Salvation Army and Church of Scotland). The Bill stands in direct contradiction to the values of faith communities, and promotes hostility instead of compassion and kindness. Over 1450 local church leaders have also signed a statement opposing the Bill co-ordinated by the Joint Public Issues Team.
Scottish Faiths Action for Refugees, together with religious groups across the UK, is also part of a multi-faith coalition led by Together With Refugees. Campaign efforts are co-ordinated on a local and national level and you can find out more about how to get involved below.
How can I get involved?
Across the country, communities of faith have opened their homes and places of worship to make our communities welcoming and hospitable places for people seeking sanctuary in the UK. We have shown through our acts of kindness and solidarity that people of faith want to show Hospitality Not Hostility for people seeking sanctuary.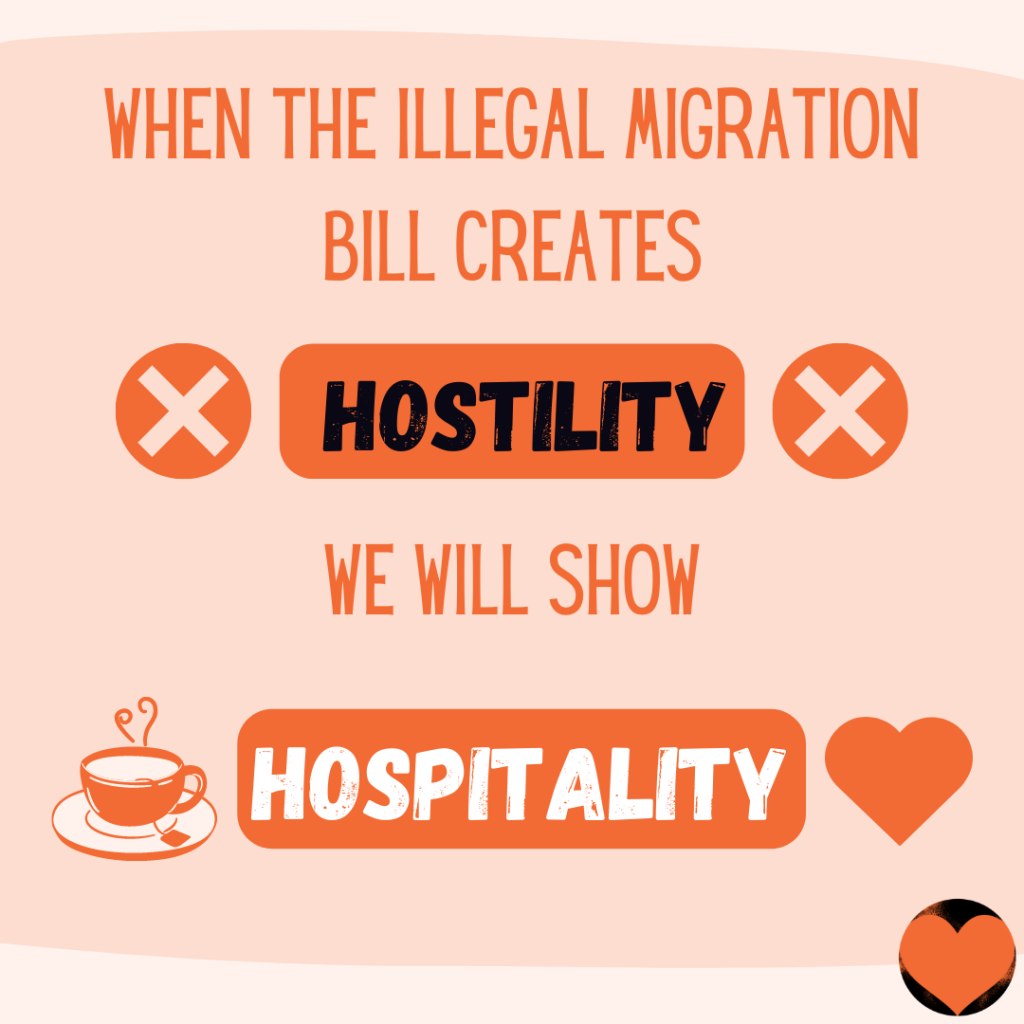 During Refugee Week (19-25 June) and Refugee Festival Scotland (16-25 June), as the government's Illegal Migration Bill continues through Parliament, we will stand up again and show that our communities of faith want Hospitality Not Hostility for people seeking sanctuary in the UK. Through actions of welcome, Hospitality Not Hostility will send a message to Westminster from all corners of the country, that how we treat refugees is about who we are. At our best, we are welcoming and kind to those facing difficult times. The government's #RefugeeBanBill does not represent us.
You are also invited to show #HospitalityNotHostility by hosting a community meal or tea and inviting your MP. You can download a toolkit with top tips on how to create an impactful event and get involved on social media. Please share the toolkit with your networks and get them involved in the June action!
For some more ideas, check out what interfaith groups in the North of Scotland are doing!