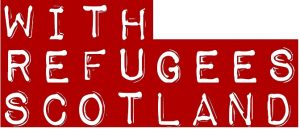 With Refugees Scotland – a network of Scottish Faiths Action for Refugees
With Refugees Scotland is a network of local faith-based projects and congregations in Scotland that are committed to working for a culture of dignity for asylum seekers, refugees and migrants locally, nationally and globally.
It is often the empty handed stranger who turns out to be the bearer of the most priceless gifts.
Faith groups in Scotland are working in partnership and want to be known as people who stand in solidarity with refugees and migrants. In our congregations in Scotland there will be asylum seekers and refugees. We share the stories of our sisters and brothers in other parts of the world who have been forced to leave their homes. Our work is not simply about doing things for refugees, but we are living with them.
Take a look at which groups are participating in With Refugees Scotland, or read on to find out more about the network, what it is for and how your group could get involved.
---
The With Refugees Scotland network works in the following way:
The local faith community discusses and agrees a statement of support by its decision-making body or usual authority. Ideally this short be a short statement explaining why the issue is important to the local group, and a sentence "We commit to being part of the With Refugees Scotland network of Scottish Faiths Action for Refugees".
The local faith community would then notify Scottish Faiths Action for Refugees of their decision and statement and would:
Provide at least two names and email address of people who can be kept in touch
Provide up to 200 words about their community and their work for the Scottish Faiths Action for Refugees website, including a photo (where possible) and any links that might be useful
Inform their members, staff, partners that they have joined the network and include mention in newsletters, on a website or whatever is appropriate
Agree to review the information held on an annual basis
The idea for this network is to encourage and affirm work that is already taking place; it should not feel a burden or extra duty on people but rather a chance for existing work to be recognised, acknowledged and drawn together in a way which inspires and energises.
Members of the network will be asked that at least once every 12 months they do something practical and something spiritual.
Practical suggestions could include:
Offering space to meet for refugees or anti-racist movements
Encouraging members to support food, clothing or other projects that would benefit refugees
Encouraging volunteer opportunities for working with refugees
Arrange public talks, film showings or other events to raise awareness or interest
Support campaigns, lobbying or petitions
Fundraising through special events or at particular times of the year
Publicise and engage with Refugee Festival Scotland
Spiritual suggestions could include:
Special services, prayers or meditations on refugee or migration themes or at particular times of the year
Scriptural or theological study for members
Participate in interfaith dialogue or work on refugee or anti-racism themes
Provide services that support integration e.g. language class, befriending, intercultural dialogue
Join or publicise events and opportunities such as pilgrimages, interfaith events or share news and ideas from faith-based bodies that produce statements, prayers and stories.
The Scottish Faiths Action for Refugees co-ordinator would be responsible for offering advice and support to the Network. The website would list what activities had taken place over the last year.
We hope that in 2019 we could hold a national gathering for local representatives to encourage sharing of ideas and building a sense of a movement. Regional meetings might also be arranged.
We would be delighted to hear from you if you have any thoughts or suggestions; please contact us.
Scottish Faiths Action for Refugees is also working with England-based Christian groups including For Refugees, Quaker Meetings for Sanctuary, Welcome Churches and Churches Together in Britain and Ireland ideas for 'Churches of Sanctuary'.