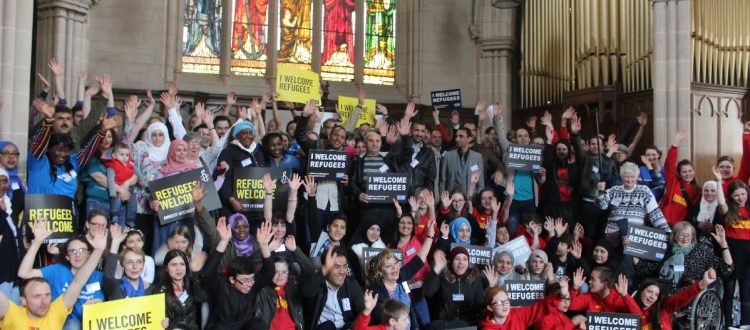 We are currently recruiting for a Refugee Integration Project Development Worker to help run our Edinburgh Weekend Club programme.
We are looking for someone with passion, knowledge and enthusiasm to contribute to the development of the Scottish Faiths Action for Refugees through delivery of locally based refugee integration programmes, and to support the delivery and implementation of the project aims and objectives.
Title: Refugee Integration Development Worker
Hours: 17.5 hours per week (part-time, 50%), fixed term contract until 31 May 2020
Salary: £27,067- £29,951 per annum, pro rata (equivalent to £13,533.50-£14975
50)
Location: Edinburgh
Closing date: Monday 10 December, 9:00am
Interviews: Thursday 13 December, morning
Reference number: 38/18
The Refugee Integration Project Development Worker will deliver a regular programme of Edinburgh Weekend Club events.  They will be responsible for all aspects of the programme, from identifying host faith groups, organising activities and ensuring the safety and inclusion of all.  They will lead a group of committed volunteers to help delivery the event, and will ensure that the voices and opinions of refugees are included in decision-making.
The Edinburgh Weekend Club is a refugee integration project run by Scottish Faiths Action for Refugees.  The Weekend Club works with Edinburgh faith groups to hold intercultural events for refugees, asylum seekers and new migrants to Scotland's capital city. The aim of the events are to tackle loneliness and social isolation, offer a chance to explore Scotland's culture and exchange and share refugees' knowledge and skills with receiving communities. Events are family-friendly and are a chance to practice speaking English in a fun and informal setting.
Scottish Faiths Action for Refugees is administered by the Church of Scotland, and this post is part of the Church of Scotland's Church and Society Council, which has embarked on an ambitious new way of working known as Speak Out with the refugee integration programme being an important part of the thematic work area of Building Global Friendships.
For an informal conversation about this role please call David Bradwell 07341 478 174 (Monday-Thursday).
Closing date: 9am, Monday 10 December 2018
Interview date: Thursday 13 December 2018 (morning)
Employment Application Form (A)