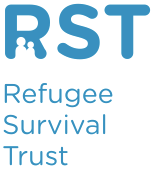 Refugee Survival Trust (RST) was set up in 1996 by a group of individuals after the government legislated to remove all benefits from asylum seekers, threatening to leave them completely destitute. The founders included, amongst others,  the Bishop of Edinburgh, the Convener of the Church of Scotland Church and Nation Committee, the Archbishop of St Andrews and Edinburgh, the Lords Provost of Edinburgh and Glasgow and Sir Tom Farmer. It was hoped that the need for the Trust would be temporary, but although the UK asylum system has changed since then, it is still one that regularly puts asylum seekers and refugees in Scotland at risk of destitution.
For 21 years, RST has worked to prevent and alleviate the destitution of refugees and asylum seekers in Scotland and to help them integrate and become active citizens.
This has been documented in detail in the recent Scottish Parliament Equality and Human Rights Committee report 'Hidden Lives – New Beginnings: destitution, asylum and insecure immigration status' (May 2017). Key causes include: the 28 day period set for the switch to normal state support once refugee status is granted, widely considered too short; the unfunded need to travel to English cities in person to lodge papers for asylum claims and the removal of all forms of state support that occurs if an asylum seeker's claim and appeal(s) are refused, essentially until they lodge a new claim or leave the UK.
The Refugee Survival Trust needs help to support refugees and asylum seekers in Scotland through seeking to broaden sources of funding. If you would like to support their work you can do this here. 
RST grew out of the actions of concerned people of faith. The role and commitment of faith communities and their members to supporting asylum seekers and refugees is widely recognised and acknowledged and so you are encouraged to consider RST in your charitable giving to work in support of asylum seekers and refugees. RST also want to do what they can to increase awareness in the faith community of their work, both in helping people to find us initially and then subsequently in providing information about what we do and our needs.
If you would like to find out more, make a connection or request a volunteer speaker, please contact Scottish Faiths Action for Refugees and we will be glad to talk with you. 
RST has evolved but remains a small charity with a clear vision: that all asylum seekers and refugees in Scotland receive just and respectful treatment and support appropriate to their needs. RST aims also to raise awareness of the issues they face and contribute to the development of policy and good practice.
If you would like short information for putting in a notice sheet, newsletter or website you can use the text in this document.
Destitution from RefugeeSurvival on Vimeo.