Shetland Supports Refugees is a community organisation which aims to help bring together like minded groups and individuals to facilitate Shetland's long term provision of support to the refugee crisis and potential resettlement and integration of refugees into the islands.  They intend to setup a network of support for any refugees who come to Shetland, covering faith, education, language, friendship, community, etc.  Following conversations with members of the public, there are people w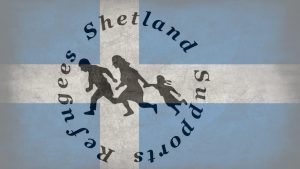 ho wish to help the crisis by offering up their homes/properties to house refugees. Where necessary, Shetland Supports Refugees hope to help make this a reality. They aim to work as a community liaison for any refugees coming to Shetland, to help their integration, and hope to provide those people of Shetland who wish to help the refugees embroiled in the ongoing crisis, with an opportunity to do so.
Shetland Supports Refugees are on Facebook.
---
Shetland Solidarity with Refugees is a community group organised through a Facebook page which seeks to provide a coordinated platform for folk in Shetland who wish to support refugees, with an immediate focus on the Calais refugee crisis.
---
There is currently no City of Sanctuary group in Shetland.  If you would be interested in forming a group please let us know to see if we can help.
---
Shetland Inter Faith is a charity which aims to:
work together as people of faith for a just and inclusive Shetland
help build and maintain good relations and greater understanding between different communities of faith and belief
encourage the sharing of knowledge and understanding of faith and belief among the people of Shetland
provide a forum for discussion on faith issues of mutual concern
support, within a faith context, the integration of ethnic minorities into Shetland society
act as a body for consultation by statutory and other bodies who are seeking the views of people of the different faiths in Shetland.
And works on:
organising and promoting inter faith activities, aiming to facilitate the sharing of faith celebrations
organising religious, social and educational events which are open to members and the general public
offering assistance and support to individual faiths represented in the organisation
representing the agreed views of the members to relevant public and voluntary sector bodies
organising and disseminating information about each faith to support public harmony, love and mutual understanding
liaison with local government departments and agencies with a view to furthering our objectives.
Shetland Inter Faith are also on Facebook.
---
News from Shetland
14 July 2016 – Shetland Islands Council presented with painting from Shetland Supports Refugees.
20 June 2016 Shetland News – Shetland Solidarity with Refugees aid reaches Calais.
17 June 2016 – Migrants: A Shetland Response, an event held at Lerwick Baptist Church as part of Refugee Festival Scotland raised £667.
6 Nov 2015 Shetland News – story on future possibility of hosting Syrian refugees.
September 2015 Shetland.org – article 'Shetland digs deep for refugees'